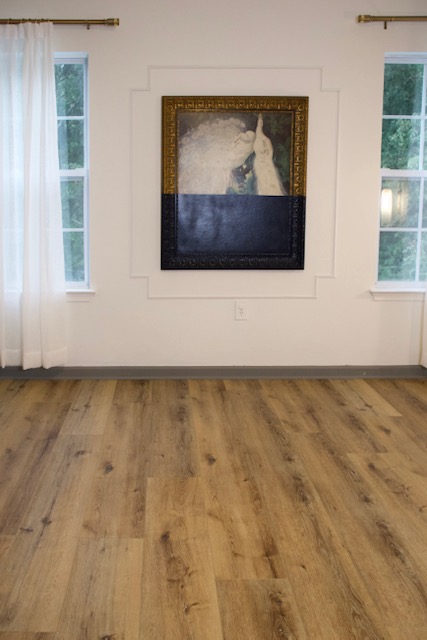 The bedroom saga continues. As I told you before the "refresh turned full makeover" was no exaggeration. After the paint, moulding and wallpaper, I had the opportunity to replace the grungy builder grade camel colored carpet with a newly engineered Limestone & PVC blend called Stoneform™ created by Hewn. One look at the cayenne color and I was in love. No samples needed! I would say it was one of the easiest decisions I've ever made and I'm naturally a very indecisive person.
So other than the color, why did I love this floor? Hewn offered a seamless to your door order & delivery process with great and informative help from the staff. The sustainable Limestone & PVC blend had me totally intrigued. But most of all it claimed to be DIY friendly. There was only one way to tell. Test it out myself.
Now to be completely honest with you I was terrified since I've never installed the click and lock engineered floor but I knew it was doable! So I gave myself a nice pep talk. I convinced myself it was a half day install once all the carpet, staples and tack strips come out. Ha! That was the biggest joke of the day.
The bedroom is a good size (16 x 14ft) and the floor took a little getting used to with how it works. To put it simply: slide the short side tongues together and then angle the long tongue into each other and drop down. If connected properly, the plank should fall flat onto the floor. This is a really simple concept once you get into the swing of things. At first the floor was arching upwards so after halfway through it I was advised to take it up, flip it around and start again.
Now this isn't what I wanted to hear, but it's what needed to be done. For the door trim, I purchased a contour gauge to assist with the cuts and to be transparent, I hated this method, it just looks kind of shoddy. Live & learn right? I'll do better next time.
So how long did this floor install take and was it worth it?
The install alone took eight hours! Which as a newbie I was drained. However, feeling totally empowered, taking a step back thinking wow! That happened in one day! What a serious change it made. A fine finished floor truly elevates a room especially one that has a fresh face already. A new floor turns it into the total package.
Do I recommend this product to you?
I really do! At a time where floor is hard to find or overpriced (depending), we are cutting down more trees than planting and we all love to order online, Hewn offers you a solution to all of the above while serving you with a beautiful and trendy up to date look.